OxiClean MaxForce Gel stain remover: How well does it remove stains? Review
As I am looking for something that would really remove stains, I found myself trying several products which turned out to be a waste of money, time, and water. So I decided to share my finding of the products I tried in order help others save money and time looking for something that fights stains. This is my review of OxiClean MaxForce Gel stain remover stick – how well does it work.
Recently my son had a bloody nose in the middle of the night, and stained the duvet cover. On top of this, the cover is white and blue so I had to be careful that whatever I use to treat the stain, wouldn't damage the blue color. There are lots of products that claim to remove any stain. Claim and truth are different however. They don't all work.
OxiClean has a line of products that remove stains. Why so many? Which one works?
I decided to try OxiClean MaxForce Pre Treater Gel Stick and see how well it removes tough stains.
Directions: You have to leave it on the stained fabric for at least 5 minutes and up to a week. I rubbed the Oxyclean gel into the fabric and left it overnight – roughly 12 hours. Then I put it in the washer, and left it to soak for about half an hour in cold water. I then ran the washer using cold water for both wash and rinse cycles. I washed the duvet cover by itself.
Results: I found that the product does take the stains out – but not perfectly. It did have a yellowish hint to it. I am a perfectionist, so knowing that it was stained, I can see it. Other members of my family thought I was too picky. You can see the video below to determine if its clean enough to your standards. I could have washed it again and see if it completely removed the stain. I didn't do that though. I'm looking for a product that will clean it with one wash. Instead, I continued my quest.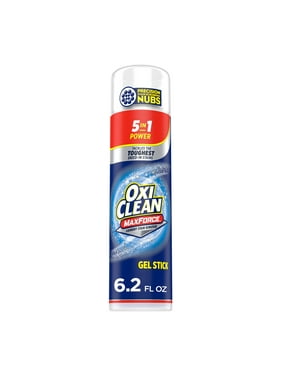 Liked:
See how much gel is in the bottle – it has a clear strip where you can see the product. No need to guess how much is left.
It has little nubs at the top, which you can rub against the fabric to work the product against the stain
Disliked
You have to push against the top of the bottle to get the gel out. Felt awkward.
No control on how much comes out of the bottle, since you have to turn the bottle upside down and then push against the fabric to get the gel out.
Conclusion
The product works pretty well but not perfect. I would use it again however. Most stains need to be washed twice, so probably with a second load it would remove the yellowish tint. Also, it didn't damage the blue in the fabric, even though that area was stained.
*Note: This is not a paid review. This is my honest review.
Hope this review helps you save money.
Happy savings, TaLis
Any Oxiclean deals available?
HERE.
Thank you.