This post may contain affiliate links. Please read my full disclosure
HERE.
Thank you.
Hello Talis Savers! This month's Glossybox US 2022 reveal is in! GlossyBOX May 2022 brings us over $75 worth of self-pampering products in a beautiful collectible Glossybox Box.
GlossyBox 2022 US May contents
What is GlossyBox
Glossybox is a UK beauty box making headway in the US market. Glossybox US ships premium full size and deluxe size beauty products directly to user's home. Each month Glossybox focuses on a beauty theme that creates a pampering 'at home spa' to indulge your beautiful self.
What's in the May 2022 Glossybox
This month's GlossyBox theme for US is revealed. GlossyBOX US May 2022 brings us hair care, anti-aging skin care and brow care in a beautiful keepsake box. Here are the contents:
BFF Brow Mascara aritzy – Grow & Groom Brow Gel | Deluxe Size
Small and mighty gel for well-groomed brow.

Aceology Rose Petal Mask | Deluxe Size
Hydrating face mask made from a rose-water rich formula that helps plump skin while soothing skin. Multi-use day or night leave-in moisturizing sleeping mask.
Invisidry Shampo | Deluxe Size
Ultra lightweight dry shampoo formula that absorbs oils and leaves your hair with that 'just washed' feeling. Also helps protect from UV radiation and preserve your hair color longer.
Elemis Pro-Collagen Energising Marine Cleanser | Deluxe Size
Luxurious gel cleanser effectively removes daily grime, makeup and other impurities. Contains succinic acid, lactic acid and ferulic acid to help exfoliate and moisturize your skin.
Daily Concepts – Daily Body Scrubber | Travel Size
TLC shower time with this body scrubber that doubles with a reusable caddy to hang in your shower. Made from soft natural organic cotton with a soy based center that creates a rich lather with your body cleanser.
May 2022 GlossyBox Reveal
---
How to get Glossybox for $1
Glossybox has a nice deal to get your first box for $1 when you subscribe for 12 months.
Click

this discount link

then choose "pay monthly'
continue to choose "12 month", click add to cart and head to checkout.
Don't want a full year subscription? Use GlossyBox Promo code listed here through May 31st
NOTE: the normal price is $21. Don't fret, use the this link shown in the pop-up screen from Glossybox and pay less.
Stay tuned for more spoilers! Subscribe
Is GlossyBox worth it?
Compare Glossyboxes.
I always look at what else a subscription offers, and think that the best way to find out if GlossyBox is worth it is by viewing past subscription boxes. I've listed below so you can review it. You can also opt for getting just a 1 month subscription box as well, and later subscribe for multiple months of your choice.
GlossyBox April 2022 full spoiler alert
GlossyBox March 2022 full spoiler alert
full of classic beauty products to create a romantic look – whether you're celebrating Galentine's Day, Valentine's Day or Single's Awareness Day. It contains a total of 5 products plus a surprise special treat, overall worth over $75.
Verso Skin Care ( deluxe size)
KAB cosmetics lipstick (full size)
Vita Liberata (deluxe size) or
Caudalie (deluxe size)
Radial – Dragon's Blood Mask (single)
NCLA Beauty (full size)
Natura Ekos (deluxe size)
Holiday spoiler – Moonlight Glow December 2021 Glossybox theme.
The December 2021 box theme was inspired by the magic of winter and the glorious image of the moonlight shining on freshly fallen snow. It so happened that the longest full moon of the year 2021 was also in December.
The December Moonlight Glow GLOSSYBOX is packed with products to help achieve that magical glow we use makeup for. This box features five (5) beauty products plus an extra surprise.
Full December GlossyBox 2021 spoilers!!
LA Splash
Elemis
Batiste
Laruce Brush
Rituals
Vahdam Tea
---
---
---
---
---
During November 2021 Glossybox contained over $125 worth of beauty products. This is what it included:
Satin Soft Blurring Primer. Fixes Foundation & Finishes complexion for complete Matte Perfection. Figs & Rouge Blurring Primer has a unique & natural anti-inflammatory & antibacterial action. Marshmallow Root keeps skin energised & flawless. Packed with Omega 3 and 6 essential fatty acids & with vitamins C, E and A.
Full size –
Paper by Commodity is a frangrance for women that blooms into a delightful Amber Woody fragrance. How does Commodity's Paper smell? skin scent opens with molecular Iso E Super. Then, as the minutes pass and the scent comes to life, you'll begin to notice Skin Musk. After that comes the softly sweet Amber trail.
Deluxe Mini worth $26
Vitabrid C¹² Daily-C Balancing Cleansing Balm
This super-charged night cream is rich in squalene and rosehip oils. Vitabrid C¹² Daily-C Balancing Cleansing Balm locks in moisture and antioxidants to combat pesky signs of aging while barley seed and chamomile extracts soothe away irritation from the day.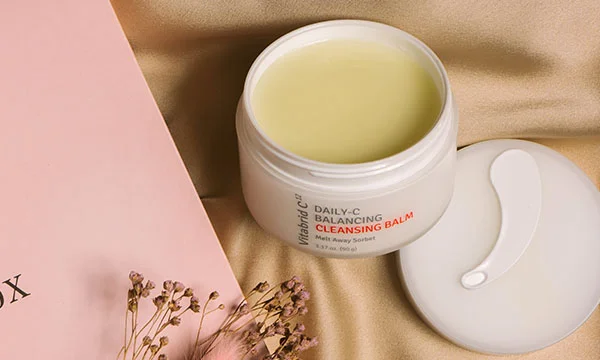 The box has a full size product worth $48.
Chella Manifest Bronze Eyeshadow Palette
4 shades palette, Charisma, Radiant, Purpose, and Intention, Chella Manifest Bronze Eyeshadow Palette will transform you into a glam, confident version of yourself. Buildable and highly pigmented, this palette ensures a look that will amplify your inner and outer glow.
Travel size – worth $20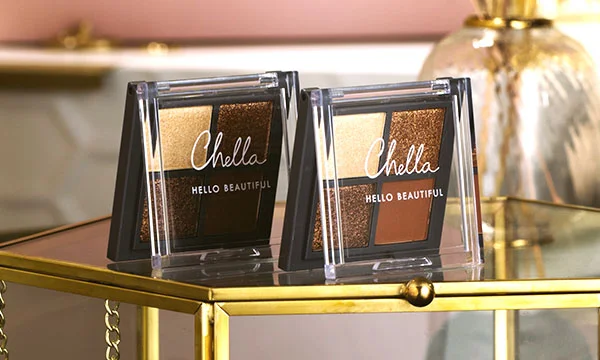 Non sticky lip product that enhances natural lip color while keeping lips moisturized. Juicy Lip lasts longer than a typical gloss.
Full size
---
---
Worth it? Absolutely. Premium beauty products super cheap. Every month is something new.
---
Glossybox Coupons, Discounts & Freebies
Glossybox subscriptions options range from 1 month, 3 months, 6 months or 1yr. Price starts at $21. However, you can score awesome savings or snag a freebie with exclusive coupons.
$10 One Month Glossybox
Get your first Glossybox for $10 with a 1-month Subscription – Use Code: TALIS10
After the 1 month subscription there is no commitment to continue. If you wish to continue getting Glossybox monthly you'd have to choose a 3, 6, or 12 months plan.
Free shipping of course.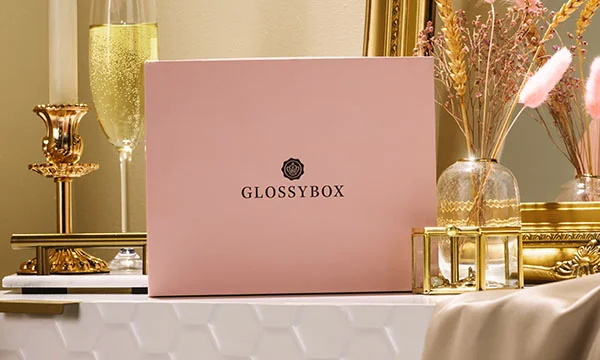 During the month of October for example, Glossybox US theme focused on the Halloween theme, with 6 beauty products worth over $75.
Unique for October month however, GLOSSYBOX subscribers were be surprised with one of two designs – The Truth or The Secret.
The October 2021 US Glossybox has 6 products in a Magical Masquerade theme
The October Glossybox had the following:
Intense hydration and antioxidant-rich nutrients for ultra dewy, glowing skin in the morning
A new way to enjoy perfume. Three iconic scents you can wear alone or mixed. One-of-a-kind bottle allows you to switch between fragrances and mix on the spot. Swipe on and off of the three sliders to select your mix. Spray your chosen combination and go! Simply reset the sliders to try a new custom fragrance.
Inspired by traditional calligraphy, smooth, fluid, single-stroke color glides on and lasts for an all-day finish without fading
All-day hydration and suppleness AHAVA smoothing body lotion. Retail $31.
You may alternately get a product to protect and shield strands from atmospheric pollution, heat damage and colour fading aggressors with a lightweight mist. Retail $27.
---
---
About Glossybox Subscriptions
Glossybox is typically valued at around $70ish and higher, which makes the subscription a money saver. Often, the box has products valued at more.
Each monthly Glossybox usually contains 5 or 6 beauty products delivered in chic collectible boxes that can double as a keepsake box or DIY craft box. Great boxes for crafters.
Glossybox is available with or without a subscription.
---
Extras from Glossybox Perks
Glossybox perks Glossybox rewards program. Answer surveys and write reviews about the products inside the box to earn more credits. Later redeem them for big name brands like Bumble & Bumble, Estée Lauder, Caudalie and others.
The best perk of Glossybox is the beauty products that you get for a fraction of the cost, plus free shipping. In my opinion, Glossybox beauty box is an affordable way to get premium makeup and skin care products.
Happy savings, TaLis.
Also Read:
Some graphics made with
Canva.
Saving with TaLis is a reader supported site and earns a small commission when you click on affiliate links. Please read my full disclosure HERE. Thank you.