Hello Talis Savers, Glossybox 2023 reveal is top secret no-more! GlossyBOX 2023 brings us at least $75 worth of self-pampering products in a beautiful collectible Glossybox Box. GlossyBox 2023 US Spoiler
What is GlossyBox
Glossybox is a UK beauty box making headway in the US market. Glossybox ships premium full size and deluxe size beauty products directly to user's home in several countries. Each month Glossybox focuses on a beauty theme that creates a pampering 'at home spa' to indulge your beautiful self.
What's the latest Glossybox Beauty Box Spoiler?
Glossybox monthly contains at least 5 beauty treats worth over $75!
Frankly, Glossybox is not the greatest with spoilers in the US. BUT… it is a money saver for sure!
The latest monthly Glossybox themes follows the seasons or current holiday events. Generally the beauty products come in a pretty cardboard or metal box that doubles as a keepsake for personal items or collections.
The last one had the following:
KAB Cosmetics
Fresh Soy Water Cleanser – lift away makeup and impurities
Kueshi Coconut Shower Gel
Monu Firming Fiji Facial Oil – a nice blend of Bois de Rose & Patchouli essential oils for a calm yet radiant feel.
You'll also get either a Wella Professionals Enrich Deep Nourishing Mask to moisturize your stressed hair or Frank Body Caffeinated Hair Mask for a moisture restoring, comfrey root hair restoring treatment.
UK shopper? Use this link
---
Glossybox US
How to get Glossybox cheap
Glossybox is available to buy through the virtual shopping mall TopCashBack. (Don't know about TopCashback? Read this)
If you're new to TopCashback, you'll get a $10 cashback bonus for joining.
TopCashback is a virtual shopping mall that's free to use and has a cashback program that gives you cashback rewards for using their online portal.
Basically, this means that you spend $10 or more on Glossybox and then you'll get $10 cash back. In other words $10 FREE to spend on Glossybox!
How to get $10 to spend on Glossybox (only new TopCashback members only)
Click on THIS LINK and register by entering your name and email.
The following image shows what pops up. (If you click the image it will take you to their website)
If you're not a current Glossybox Subscriber, buy a one month subscription.
Click on "Start Now" (this is what it may look like)
Important: Use ONLY TopCashback codes if any. If you use another code or promotion you'll forfeit the cash back.
That's it! you'll get $10 added to your account and you can withdraw it through PayPal or your bank.
Stay tuned for spoilers! Subscribe
Super Important: If you only want a 1 month subscription, be sure to cancel for next month by going to your Glossybox account. Otherwise you'll get charged the following month for a recurrent subscription.
FYI – be sure to check out the Limited Edition boxes too.
Check out an example of previous Glossybox limited edition boxes here, or the video of the product here .
Limited boxes are usually worth over $175 – but costs only $35
Is GlossyBox worth it?
Compare monthly boxes
I always look at what else a subscription offers, and think that the best way to find out if GlossyBox is worth it is by viewing past subscription boxes. I've listed below so you can review it. You can also opt for getting just a 1 month subscription box as well, and later subscribe for multiple months of your choice.
August 2022 GlossyBox Spoiler
Estate Cosmetics Hidden Garden Pigment Palette
Luxie 640 Blush brush – soft synthetic bristles which are cased in a rose gold ferrule atop a chic pink handle
Pixi Blush Duo – Natural mineral formula is infused with Vitamin E and Mica, so skin is treated as you wear it. This blush duo is hydrating, long–wearing, and light–diffusing. Use the left side to add a pink shade to the apples of your cheeks, and the right gold shade to add shimmer to the high points of your face
The Original Mini Detangling Brush – Tangle Teezer smaller version that's perfect for travel or carrying in your purse. Super gentle, glides through wet or dry hair.
Apothecary Wild Rose Night Brightening Sleeping Facial by Korres – nourishing and smoothing formula with vitamin C and rose extracts.
Full size Beachy Texture Spray by Authentic Beauty Concept. Gives hair a summery braded 'do'. Made with organic sugar and sea salt ingredients for hair volume.
Extra treat- Viktor & Rolf sample of their newest perfume – Good Fortune. Fennel and gentian flower, jasmine and creamy bourbon vanilla.
---
Worth it? Absolutely. Premium beauty products are super affordable using Glossybox. And every month is has something new.
---
Glossybox Coupons, Discounts & Freebies
Glossybox subscriptions options range from 1 month, 3 months, 6 months or 1yr. Price starts at $21. However, you can score awesome savings or snag a freebie with exclusive coupons.
After the 1 month subscription there is no commitment to continue and you can cancel at any time. However, their system will automatically roll into next month's order.
If you wish to continue getting Glossybox monthly you'd have to choose a 3, 6 or 12 months plan.
Free shipping of course.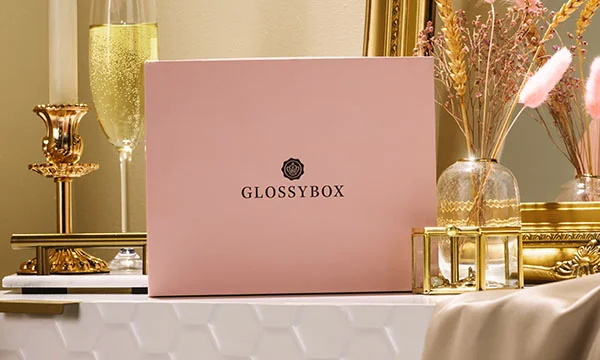 During the month of October for example, Glossybox US theme focused on the Halloween theme, with 6 must-have beauty products
---
Glossybox US
---
About Glossybox Subscriptions
Glossybox is typically valued at around $70ish and higher, which makes the subscription a money saver. Often, the box has products valued at more.
Each monthly Glossybox usually contains 5 or 6 beauty products delivered in chic collectible boxes that can double as a keepsake box or DIY craft box. Great boxes for crafters.
Glossybox is available with or without a subscription.
---
Extras from Glossybox Perks
Glossybox perks Glossybox rewards program. Answer surveys and write reviews about the products inside the box to earn more credits. Later redeem them for big name brands like Bumble & Bumble, Estée Lauder, Caudalie and others.
The best perk of Glossybox is the beauty products that you get for a fraction of the cost, plus free shipping. In my opinion, Glossybox beauty box is an affordable way to get premium makeup and skin care products.
Happy savings, TaLis.
Also Read:
Some graphics made with
Canva.
This post may contain affiliate links. Please read my full disclosure HERE. Thank you.