Get a sweet & simple mother's day gift for to show your appreciation for someone who gets no vacation days, works 24/7, takes sick days only when she can no longer move yet always has the strength to be loving and caring.
The best mom ever gifts are the ones that she uses every day to be a reminder of your love, like mugs:
Promoted To Mommy! 15 Oz Ceramic Large Mug
15 oz mug is 4.5″ tall x 3.25″ diameter. Made of durable ceramic construction with an easy grip handle. Features a beveled bottom rim. Choose between the Standard White Mug or the Standard White Mug with black interior & handle. Microwave and top shelf dishwasher safe
---
16oz Stoneware Best Mom Ever Mug and Tea Towel Set Pink
This coffee mug features "Best Mom Ever" text written on the front, with sweet star detailing on the towel for a truly inspiring look. Crafted from durable stoneware with a sturdy handle for an easy grip, this mug is perfect for drinking coffee, tea and more. Plus, thanks to its dishwasher-, and microwave-safe construction, this stoneware mug makes a convenient go-to choice for just about any occasion.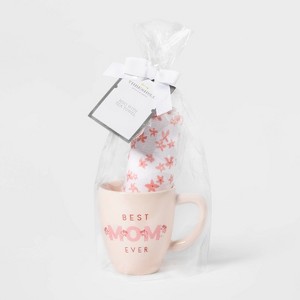 Happy savings, TaLis
Some graphics made with
Canva.