italki learn a language with a native educational platform is celebrating their 14th year anniversary. What does this mean for you? $140 worth of italki Coupons to all new italki registered users for the month of July. This means you can learn a language at home and score fantastic savings in the process.
Table of contents
All new registered users will receive a $140 coupon pack in their Wallet after sign up. The coupon pack contains 12 coupons, with discounts totaling $140. The coupon pack can only be claimed between 5 July 00:00:00(UTC+0) – 30 July 23:59:59 (UTC+0).
What is italki?
italki is a language learning platform that teaches users by going beyond the textbooks and instead immerses learners into the language's idioms and culture.
A one on one teaching service tailored to focusing on your skill level and interests, with real life scenarios and conversations to truly grasp learning a language.
Whether you're learning a language for a job or scoring a 5 on AP language exams, italki works by connecting users with a teacher who is certified as an instructor and qualifies as a native instructor.
italki Language Coupon
italki language challenge is launched as a way to push users to learn the language. Offered in several languages, the italki community rallies to complete and compete to earn rewards, creating a fun competitive environment to learn a language. The end results is becoming more fluent in a language while having fun.
To join italki sign up. The coupons will be in your wallet after you finish registering.
As you work towards your goal to learn you have the language support you need plus learn the "street talk" as well.
Additionally, members support one another through the italki community. There is no pressure for how long you take classes. Pay as you go, or stop whenever you want. Of course, there are bonuses and incentives for users to learn. italki also engages their users with challenges and other competitions.
Italki learn a language anniversary celebration is happening throughout July 2021. This is the perfect time to sign up to learn a language while getting nice savings.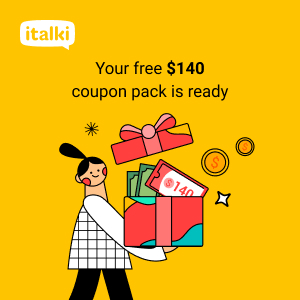 After joining italki get started scheduling lessons to learn or improve a language.
Italki offers a pay as you go plan as well as bulk credit purchases. Credits are redeemed when you take lessons. You then schedule lessons when you want, based on your budget and for as long as you need it.
Worth mentioning, with italki there's no pressure to juggle schedules to meet monthly lessons. If necessary you can skip and reschedule lessons individually with your language teacher for a customized fit. (Read all you need to know about italki – review)
Italki incentives
Throughout the year italki also has other incentives to make learning a language fun. So far this year italki has had 2 italki language challenges. This is an event in which the italki community rallies to compete for rewards.
How many italki lessons to schedule? Well, you know you've learned a language when someone tells a joke in another language, and nobody has to explain the joke to you ;).
Find out more about italk and learn.
Savings curated by TaLis
Related: All about italki
Some graphics made with
Canva.
This post may contain affiliate links. Please read my full disclosure HERE. Thank you.